Description
BRILA Total Car Protection Pack
Fabcar is a direct supplier of BRILA paint protection for vehicles located in Perth, WA
Inorganic Glass Coating
Water Repellant
Brake Dust Repellant for Wheels
Interior Anti-bacterial Treatment
[embedyt] http://www.youtube.com/watch?v=Z0Kzkr26Pss[/embedyt]
1) About Body Glass Coating
BRILA Body Glass Coating protects the painted surface of a vehicle whilst maintaining its pristine factory shine. It combats exposure to natural elements such as the sun's UV rays, bird faeces, acid rain and the adhesion of dirt. It does all this without the need to polish your vehicle again for up to 5 years!
Benefits of BRILA Glass Coating
[embedyt] http://www.youtube.com/watch?v=HJCchARzVDQ[/embedyt]
BRILA's highly water repellent properties means that water and rainfall quickly disperse off the vehicle and reduces the amount of dirt and watermarks left behind
It is a strong glass coating which is both flexible and durable which protects painted surfaces from dirt, industrial fallout, bugs, bird droppings, and road tar.
2) About Window Coating
BRILA Window Coating is a highly durable coating which directly forms a chemical bond between fluorine and the glass without any binders.
This creates a long lasting water-repellency, prevents the adhesion of dirt, insects, pollen, yellow sand, and enables the removal of snow and frost in the winter.
High water-repellent capability
Durability of fluorine
Antifouling capability
High water-repellent capabilities
BRILA's window coating has a water contact angle of 110º which results in clear field of vision when in torrential rain. Since running water has a contact angle of 17º, water disperses effortlessly and requires minimal use of the vehicle's wipers.
Durability of fluorine
Excellent durability is created by a strong chemical bond and without binders when applied to the glass's surface. In a wiper wear acceleration test, after 600,000 wiper passes, water-repellency with a contact angle of 80º was maintained. BRILA's glass anti-wear capabilities is therefore three times longer lasting than other similar coatings.
Antifouling capabilities
[embedyt] http://www.youtube.com/watch?v=P9OKisn-HuM[/embedyt]
The oil-resistant capabilities of fluorine prevents the adhesion of oil to the glass surface. Eliminating glare on the front windshield on rainy nights, a clear and safe field of view is maintained. Because of it's water-repellency, BRILA Glass Coating also helps to reduce any water marks left behind.
3) About Wheel Coating
The wheels of vehicles operate under extremely harsh conditions. High speed driving, brake dust, dirt, water, tar, etc…are continuously contributing to the dirt build up and corrosion of alloy rims.
BRILA Wheel Coating is designed to combat these elements and repel any unwanted brake dust, wear and dirt.
Self-cleaning
Antifouling capability
Durability for a long time
Heat resistance
"Self-cleaning effect" created exclusively by BRILA.
The water contact angle of the BRILA Wheel Coating is less than 10°, and is creates what is known as a super hydrophilic surface. Water on the coated surface does not form droplets, but spreads and infiltrates under the dirt and releases the dirt from the surface. Furthermore- when in contact with a large volume of water onto the the surface, you'll find any dirt present is washed away effortlessly.
This phenomenon is called BRILA's "self-cleaning effect."
High Heat Resistance
Heat generated by braking the vehicle can reach temperatures of 1500 Fº (800 Cº).
BRILA Wheeling Coating can withstand temperatures of 1300 Cº, creating a surface that brake dust cannot be embed onto and further protects your wheels.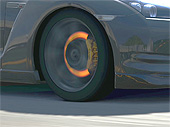 4) About Interior Coating
BRILA Interior Coating is a system to designed for bacteria removal, deodorization, and mould prevention for three years. Consequently it provides a clean and safe environment within the vehicle for any allergic/atopic children in addition to protection for the rest of the family.
Antibacterial, mold prevention, mite control and deodorization
Barrier effect
Proven high safety
Duration for a long time
Excellent antibacterial, mold prevention, mite control, and deodorization.
Prevents…..
● Mould odour from air conditioning system
●  Cigarette smoke odour
●  Pet odour
●  Body & sweat odour
●  Ammonia and food odors etc.
List of corresponding bacteria in PDF form
It is effective in fighting against 600 varieties of bacteria and mould such as E. coli, salmonella, MRSA (Staphylococcus), and vibrio.
***Purchase Online and Have Treatment Applied at BRILA's Workshop in Perth by its Highly Skilled Technicians***